Restaurant ALvis in Berlin
Creative, regional & seasonal cuisine in a sartorially ambience
"Everyone has to eat - but what you eat is up to you. My handwriting are the regional and seasonal ingredients. But nevertheless always with the view over the edge of the plate. I naturally procure nationally as well. Berlin eats in many ways, Berlin eats in many colours. Here there is not only one line. Many newcomers in the last two to three hundred years have brought their own influences with them, found their home in Berlin, turned their dishes into Berlin dishes. And that's where I can build my recipes on."
- Wolfgang Kanow, chef since 2002
CONTACT
Restaurant ALvis
Albrechtstraße 8 | 10117 Berlin
Telefon: +49 30 30886-560
E-Mail: kontakt@alvis-restaurant.de
barrier-free
OPENING TIMES
Mo - Sa 6 a.m. - 11 p.m.
À la Carte: 12 a.m. - 11 p.m.
Lunch (Mo - Fr): 12 a.m. - 3 p.m.
Coffe & Cake: 3 p.m. - 5 p.m.
Sunday
6:30 a.m. - 11 a.m.
brunch 12 a.m. - 3 p.m.
The Restaurant
The restaurant ALvis consists of a main area with a large window front - in which the wooden buffet is also integrated - the cosy, glazed bishop's corner with direct access to the courtyard garden and the garden café, which can be used especially for family celebrations.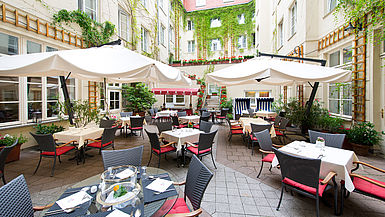 The Courtyard Garden
Our idyllic Hofgarten is an insider tip and an oasis of peace in the middle of hectic and fast Berlin in summer. Here you can enjoy Kanow's culinary creations, BBQ buffets and much more under the open sky. Or book the Courtyard Garden exclusively for your own celebration.
The Albrecht's Bar
In the Albrecht´s bar likewise with regionally-typical products one deals - for example from the citizens of Berlin liquor factory or the Berlin arsonists . An extensive selection at high-quality liquors, wines, fruit spirits and Spirituosen are to let the Geniesserherz beat higher before and/or after the meal.